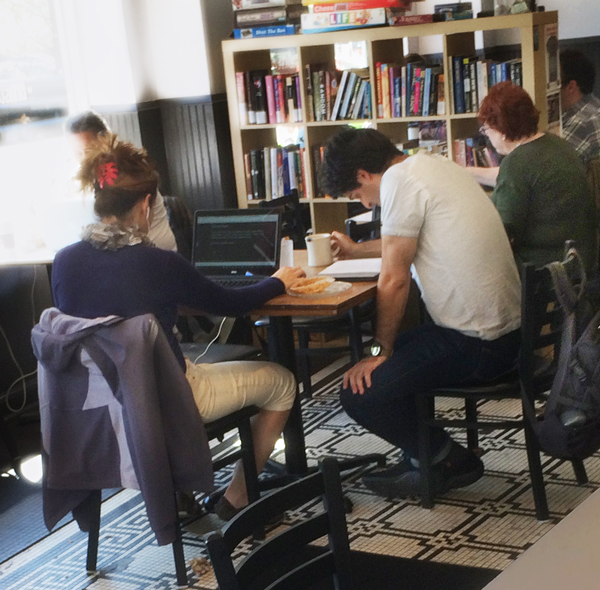 The long forced march is behind them.
The couple seated at the table are about to harvest what they have sown. They're giddy with achievement and release.
They've done it. They've nailed it. Totally aced it. They have tee-shirts as evidence of every function they've endured as students.
For one of them the immediate future involves tenure track at one of the Ivies; for the other an individually tailored portfolio of responsibilities within an international consulting firm —all of this due to years of work. And now even the gods of relocation have smiled on them — neither will need to sacrifice a career for the other.!
They'll move to the East Coast within months. As they sit here today, they're comparing the advantages of towns that triangulate their workplaces.
The young couple has been a part of our community for six years and has discovered that something as incidental as a coffee joint can shape the quality of life in a way few people would imagine.
There's a reason their names and faces aren't revealed in this post. Halfway around the world there are families and clans and religions that keep their distance from one another. A ethnic Kurd and an ethnic Armenian, a Muslim and a Christian, are not meant to be together.
Here at our coffee shop, at the most visible table in the center of the room, the man and the women don't need to hide their troth.
They'll tell you as a matter of fact that their decision of where to live next, together as a family, revolves at least in part around finding a coffee shop like this one.