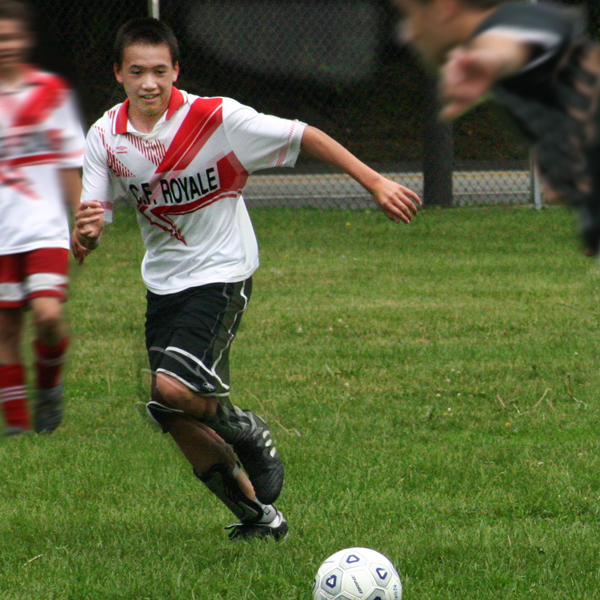 No one had ever played varsity. Coaching scouts didn't know the family existed.The six-year-old playing in his first soccer game had no idea of the hopes his father had placed on him.
He didn't know his family never had a trophy displayed on the mantle and never saved a press clipping from the sports section. No one played varsity. Coaching scouts didn't know the family existed.
The boy's father's was determined to do something about that.
He's a man with bad eyes and worse reflexes but he appreciates what sports can contribute to a child's life. He admires athletes for their prowess and understands why people wear franchised logos, He sometimes featured sports legends in the ads he created for his clients. He tries not to be envious.
The man saw to it that his son was exposed to hockey, baseball, football and basketball. Golf and tennis were offered at school.
The boy joined a soccer league during kindergarten and took to the sport.
In the first minutes of his first game, the ball found its way exactly two paces in front of his power foot. "It might be a long time before you score again," his coach laughed. And it was.
When the boy's father volunteered as a referee, the league issued a uniform with a jersey, shorts and socks but he couldn't bring himself to wear it— it's risky for a guy who barely understands the game to look so professional.
The boy played on a team until late into high school when AP courses demanded his attention. He still gets together with friends and former teammates to watch sports.
He can rattle off stats and trivia with the best of them. When he and his old man are together, looking for things to talk about, he patiently explains the finer points of major league sports. That's his job.
Being the jock in the family carries certain responsibilities.