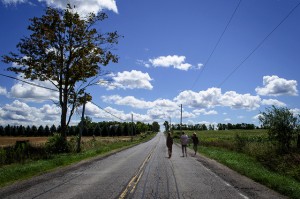 When the boys found a car with keys, they stopped to consider the pros and cons of Grand Theft Larceny.
As soon as she realized her middle boy was missing, she started calling around. It was a relief to learn that two of his friends were nowhere to be found.
America still held a Tom Sawyer view of boyhood. For better or worse, they didn't think to put kids' pictures on milk cartoons.
The three ran away because the parents of one them was in his face about something. The other two went along for the ride. Who would notice, really? School wouldn't start until after Labor Day.
They weren't but 14 years old, we think — the details of this story are sketchy.
None of the boys had seen an ocean so they decided on California. There would definitely, absolutely, be an ocean there. They didn't have a map but one of them was sure west was that way.
On duty that weekend were three crack angels from the Bureau of Mildly Incorrigible Boys — and a good thing too. When the boys found a car with keys, they stopped to consider the pros and cons of Grand Theft Larceny. Miraculously, they decided against it. None of them had a license anyway.
They spent one night sleeping in a rusted tractor-trailer cab in a junkyard. One of them remembers the cold. They survived on snacks from filling stations and country stores. They didn't steal.
The runaways had gone about 50 miles and were approaching Versailles State Park when a friendly older man pulled over to gave them a ride. He'd seen their kind before. They were in luck. He happened to be going their way.
It wasn't long until he pulled up to a small-town police station and told the boys he was an off-duty officer of the law. He got on the phone and told their parents the kids were here and they were safe and they seemed like nice-enough young men and you don't need to be too hard on them.
She sent her oldest son to bring them home. He liked to drive his Mercury and she gave him gas money. None of the boys' parents bothered to go along. There was silence on the way home.
"Your dad and I were worried sick." his mother told him.
In return for his solemn promise never to run away again she pulled a baking sheet out of the oven. Drop Sugar Cookies — his favorite — soft, not browned. He hated when they got the slightest bit crispy on the edges. She had made them just right and he told her they were pretty good.
Drop-Sugar Cookies For Runaways
2 cups sugar
1 cup shortening
3 eggs
¾ cup sour milk
1 tbsp baking soda in the milk
2 tbsp baking powder
2 tbsp vanilla
¾ tbsp salt
5 cups flour
Cream sugar and shortening. Beat until light/fluffy. Add eggs and mix well. Add remaining ingredients. Drop by spoonful. Bake at 375º until they look right and not a second longer.