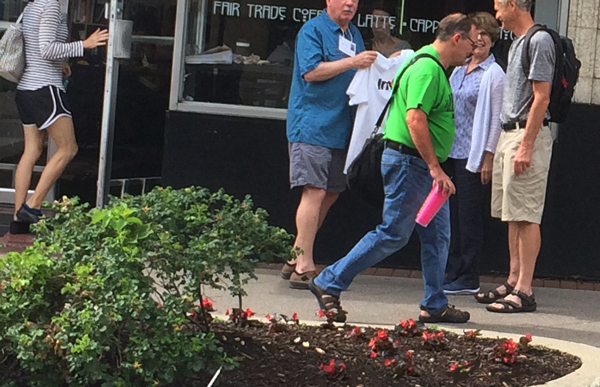 The man hoped
his call would get lost within the bowels of the city's communications hub. That would give him an excuse to put off the chore he dreaded.
But that kind of luck wasn't to be.
Minutes before the Community Development Department officially opened for business, Chris pick up her phone and asked how she could help. "That'll be simple enough." she assured the caller.
There weren't many requests like his so they'd have to do things the old-fashioned way — using pens, paper, staplers, etc. Chris wasn't apologetic about that, she liked working with her hands.
She told her constituent he would need proof of identity. His passport would do and if he had a driver's license he should bring that too. They made an appointment for that same day.
She took one look at the tee shirt the man would be selling and disappeared into her boss's office. "We've decided to give you a special unauthorized discount." she whispered in a conspiratorial tone.
She laminated the certificate he would wear around his neck and punched holes for a string. She slid her card across the desk and said if the police gave him any trouble they should call her.
"Congratulations, Peddler #7!" The city wishes you every success!"
The word 'peddler' caught the man off guard, he didn't like the sound of it. His mother hadn't carried him seven months and eleven days so he could be a common 'peddler,' All he wanted was to unload a few tees.
The next morning he schlepped his wares to a neighborhood street fair where he found it intensely, acutely, profoundly painful to approach strangers. He experienced an immediate respect for the age-old profession that has helped shape civilization.
A city can issue a license and a badge, Peddler #7 will tell you, and it can give you access to its streets. But what it can't provide is the grit, the heart and the cleverness it takes to survive out there.

NOTE: By regulation a peddler is not a street vendor. Vendors can set up a stand to display their goods but the peddler needs to keep moving.