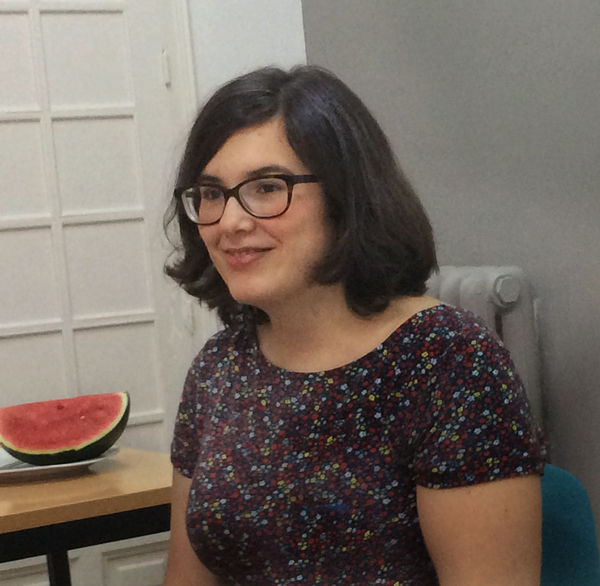 Baffled expressions are Teresa's bread and butter MADRID — She's part actress, part standup comic.
She's a mime who uses her body to explain things that don't translate. She's an etiquette coach and a world-class diplomat.
Teresa Hernández López is a language professor who sensed early on that she would teach. As the second of five she helped attend to the education of her siblings.
She herself is a remarkable scholar — she was awarded a Fulbright Scholarship by the US Department of State which she pursued in Scranton PA, where she later taught at the university level. "Have you seen 'The Office?'" she'll ask.
Teresa's not extroverted by nature, she uses the English word "shy" to describe herself but she becomes a different woman in front of students.
She conducts classes totally in Spanish, hiding her mastery of English even though it was her major — she graduated knowing more about our language than her own. She has since tackled her native Spanish with that same determined rigor. Portuguese is next.
Teresa teaches at a boutique language school built around a walk-in curriculum with no entry requirements. (It offers a convenient excuse to be in Madrid.)
Some students stay for weeks, others for months, many earn credits that transfer back home. A surprising number learn Spanish because of romantic interests. Teresa is fascinated by students from non-western cultures who have fundamentally different realities built into their languages.
She grew up in the traditionally Spanish way, her family living on the first floor and her 'abuela' on the fifth. She left her home town of Segovia to make her way in the Spanish capitol.
Entertainers and public speakers find nothing as terrifying as a room full of blank stares. But for Teresa, baffled expressions are bread and butter. Tortured pronunciations are music to her ears.