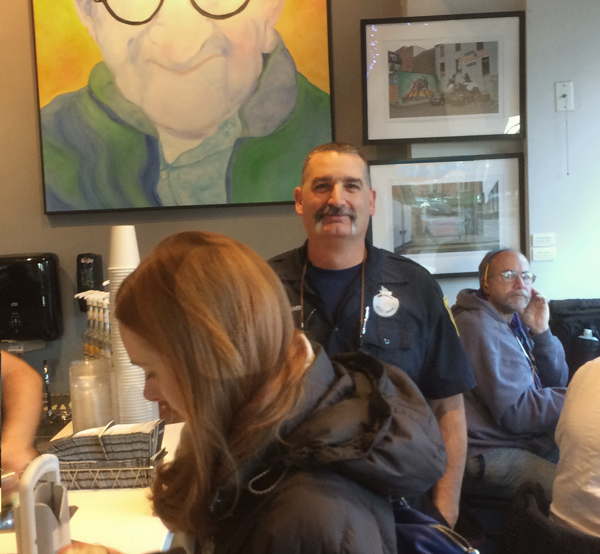 You'll find the ladder truck from Fire Station Two double-parked outside our corner coffee shop some mornings.Tom Howard will run in to pick up a round for his crew.
You might think idling a hugely expensive firefighting vehicle for a coffee run is a waste of taxpayer dollars. It's not.
Think of it as readiness training. Every minute on the street sharpens the team's knowledge of traffic patterns, access points around town and behavior of equipment under weather conditions. Every emergency call sets off a mesh of calculations and responses.
Tom is part of an eight-member team that pulls a 24-hour shift. They stand ready at all hours to hit that pole and engage with sixty pounds of gear, tools and breathing packs.
Two meals are prepared each shift. You get your fussy eaters, restricted diets and meat-and-potatoes holdouts. It seems that leftovers don't play well on Sundays.
There are occupational hazards. Firefighters seldom talk about fear but they worry about mistakes. A drop in adrenaline between shifts can feel like a loss of purpose and camaraderie, an isolating work cycle doesn't help. Tom manages a hotline to deal with exactly those problems.
As an engineer he drives ladder trucks and fire engines and is certified in medical response and Hazmat. His thing is opening cars with kids locked inside. "Good enough to be a cat burglar." he laughs
The 25-year-veteran firefighter earned a master's degree in divinity after a deepening of his faith and has been asked to preach at various congregations. There's that quality about him.
Physical realities catch up with even the fittest firefighters. Tom will be ready for the next chapter of life. "I believe the Lord has called me for something." he says. And the good Lord willing a '98 Harley and a Yamaha Motocross will be part that something.